May I introduce you once again to Apple? Apple is now officially the doll of the week here at Dinky headquarters. I say week, but the actual term of office might vary somewhat so figure some artistic license into that statement :)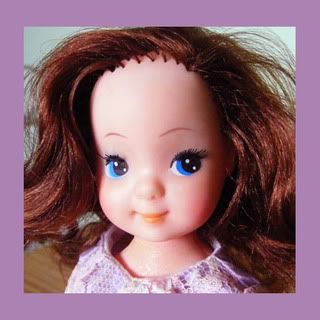 Apple is a vintage cutie known as a Perfekta "Stella", "Baby Stella" or Yes/No doll. This particular little girl came to me via ebay and featured on my "The First Rescue" video featured in a previous entry. Very little seems to be known about Apple, or Perfekta dolls in general actually.

I have discovered that Perfekta were a British toy company who created these dolls in the 60s.

Measuring approximately 22cm (9 inches) high Apple and her sisters have several interesting features packed into a diminutive frame.

On her back she has a small button which when depressed causes her to nod her head "yes". On her stomach she has a second button which causes her to shake her head, "no".

In addition to this she also has basic mechanical "walking" legs - if you don't believe me (you doubter you!) take a look at this dollyvid...




She has lovely wavy hair that is perfect and soft and styleable in that special way unique to vintage doll hair, and she has lovely, thick rooted lashes (although some of Apple's eyelashes are somewhat bedraggled on her right eye!).

I am also in love with her great, blue eyes, peachy lips, rosy cheeks and irresistibly cute button nose.

Although Apple is a brunette but I have also seen blonde incarnations of this doll, though I am unaware if any other hair shades were produced. I'd love to see a re-root in some fantasy hair colour too :)

Apple is expressive and adorable, but if you appreciate the concept but the face isn't to your liking, (I am covering Apple's ears as I speak) then you'll be happy to learn that a Japanese company, Tsukuda, also acquired the license to produce their own versions of the doll in 1968. Tsukuda named their yes/no dolls "Rummy", "Minny", "Chako" and "Mitchey". For more information on the Japanese Yes/No dolls please follow the link below to the fabulous "Yu's Cutie Dolls" website :)
So in conclusion she's a cutielicious more dollified version of a Unazukin... but requiring more imagination and thumb dexterity...
I love her and would love to hear from you too if you have any Perfekta Yes/no stories/pics/info/love... LMK either via a reply to this post, email or whatever takes your fancy :)
Laterz, Holly & Apple xoxo